Supportive Core
Sunflower foam is made from natural seed oils including sunflower and soy, that are foamed with water and cured into a durable yet contouring material.
Quilting
Each side of the mattress has 250gsm of pure, washed cotton.
Cover Material
The cover is made to be flexible, durable and breathable. It is a blend of 30% bamboo, 70% cotton.
Special removable cover.
The whole cover may be unzipped and dry cleaned. Great news for keeping your mattress fresh and clean over years of use.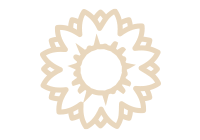 The Sunflower Mattress Design
The natural sunflower mattress is as supportive as latex with the yield of tempur memory foam. Developed in Germany and made by Dorsal Italy, this natural foam is the best performing product to balance support and comfort.
Dorsal Mattresses are made from seed oil processed into a durable and supportive foam. These mattresses are available in soft, medium, and firm densities and contour perfectly to body weight while providing gentle resistance, and breathability.
Dorsal are a renown Italian bed design company, established in 1932, and leaders in natural and innovative sleep systems.
The Sunflower mattress is covered by Natural Beds 10 year guarantee. This includes all aspects of workmanship, materials and durability. The Sunflower mattress is also covered by Natural Beds 14 day trial for Queen, King and Super King sizes.